Like the rabbit in "Monty Python and the Holy Grail", Mugsy's small demeanour  can be deceiving. This little beast, just a smidgin over two pounds,  is a force to be reckoned with.
What began as  a bid for attention has led to leg-climbing and then leaping to the table to make off with a pastrami on a kaiser or some other dining table prey.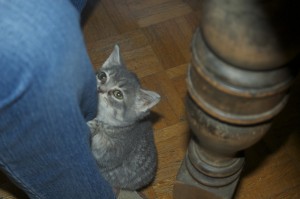 While her foster parents  were away on vacation, she was apprehensively left in the care of  NTCR volunteer Susan and Mike.  Pictured below is the aftermath after Mike refused to surrender a tuna sandwich.
Mugsy was eventually subdued and is back in foster care.  Mike's condition has been upgraded and he should be returning home by December.