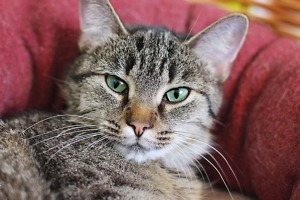 This is a story about a pretty brown tabby we call Coco. Isn't she lovely? But she's not just a pretty face. Coco is what they call a "Hemingway cat". She is a polydactyl, with six toes instead of five on each of her front feet. And oh my goodness, the cuteness factor! It looks like she's wearing little mittens on her front paws.
Cuteness aside, Coco is one lucky kitty. She's escaped certain death twice within two weeks. Firstly, Coco came to us from a high-kill shelter in Quebec. Many volunteers in two provinces spent time and effort to find her a placement and then transport her to our no-kill shelter. She was liberated just in the nick of time. She arrived, settled in, and was confident and friendly right from the start. Next up was to have her spay surgery and vaccinations so she would be ready for adoption. Off she went to the veterinarians….. And on the operating table, as she undergoing surgery, it was discovered that she had pyometra, a serious and life-threatening disease common in un-spayed female cats. Untreated, it results in a horrific death. (Click here for link to pyometra information.) Swift and aggressive treatment is needed, and the cure? A spay surgery.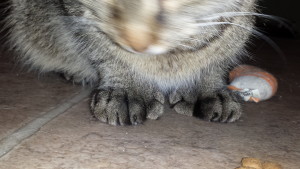 Although the surgery was a little more complicated due to the inflamation, Coco came through in perfect shape. Not only is she now safe from unwanted litters of kittens, she can never get pyometra again. She is now playing and loving it up with the volunteers at the shelter, waiting for the day she meets her new "furrever" family.
Coco's biography and adoption information can be found here.