You may remember Hobo, one of our lovable cats who was rescued from the streets of Hamilton. Now called Giles, he settled in to his furever home almost two years ago and continues to thrive. Becky, his Mom, has shared the following update with us and as we know that you all love a happy ending, we want to share his fantastic story with you.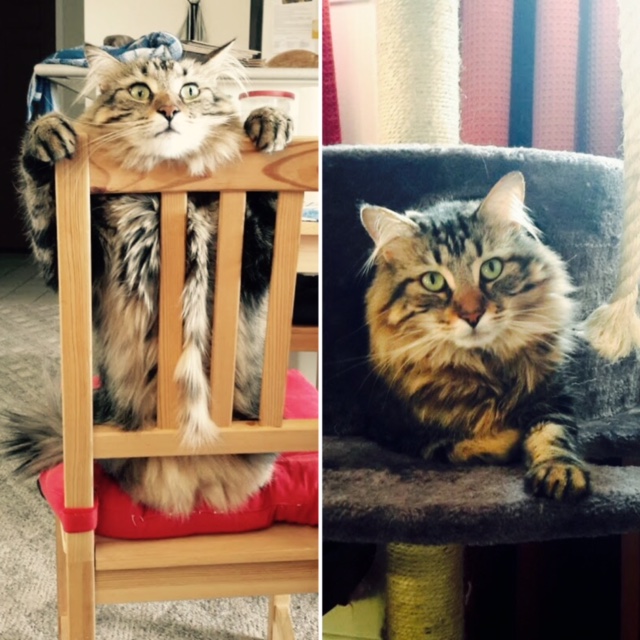 "We were looking for a new cat and as there are so many kitties out there looking for homes we knew we wanted to rescue a shelter cat. When we arrived at NTCR one of the volunteers handed Giles to me and he snuggled right in to the crook of my neck. Although I thought I was looking for an older female cat, I knew immediately that Giles was the one. He wanted to come home with us and wasn't going to take no for answer. So, the decision was made.
When we brought him home we unfortunately had to separate him from our older cat, who was sadly diagnosed with cancer soon after we adopted Giles and needed her own quiet space (she passed a few months later after a valiant battle), but we made sure to give Giles plenty of play time and love, which he returned in spades. Giles is a loveable, super-playful goofball. When we've tired him out playing chase and tunnel run, he loves to snuggle up in a box or on his cat tree and get head scratches. He's also obsessed with bird-watching and often "talks" to the sparrows and pigeons that he sees from his favourite windows.
Giles was found on the street and probably had to compete for food. He loves having a safe space to play and has learned to trust that he has a reliable food supply and no longer has to wolf everything down right away. He kept growing until well after his second birthday, topping out at 13 pounds (all cat, no fat) and three feet from front to back foot! He's always been playful and friendly, but has also grown into an intelligent and adaptable cat, and was a real trooper when we took him on a five-day road trip across the continent, moving from Toronto to BC.
Giles is very human-focused and has an alpha cat personality, and since our older cat passed we've decided we'll all be happiest with him as an only cat. He's loving all the attention being lavished on him and trots happily along behind us when we move around the house.
Giles knows and obeys the 'off' command, but not before giving us an adorable, sad little mew first. He also likes to stick his front end into his cat tunnel and wait for us to dangle a toy through the hole in the middle. It's impressive how such a tall cat can shoot himself so quickly through a small tunnel!
Giles is wonderful companion, full of fun and mischief. He brightens our days even when he gets into the kitchen cabinets or disagrees with us about what is and is not a cat toy. He's our little buddy, and we're looking forward to many wonderful years with him".