You may remember that in 2015 Ruby, one of our pregnant cats gave birth to five kittens with Cerebellar Hypoplasia (CH), also known as wobbly kittens. We urgently required foster homes, to give us adequate time to find permanent homes for them, and Pia, one of our volunteers stepped up to foster two of the moderate CH kitties, Pippa and Kiki. Well, we didn't need to find these guys permanent homes as Pia fell in love with them (it is hard not to) and adopted them both. Here is an update on Pippa and Kiki, and watch this space for more news about Ruby and her precious CH babies. Thanks to Pia for the following update, and for giving these beautiful kitties a loving home.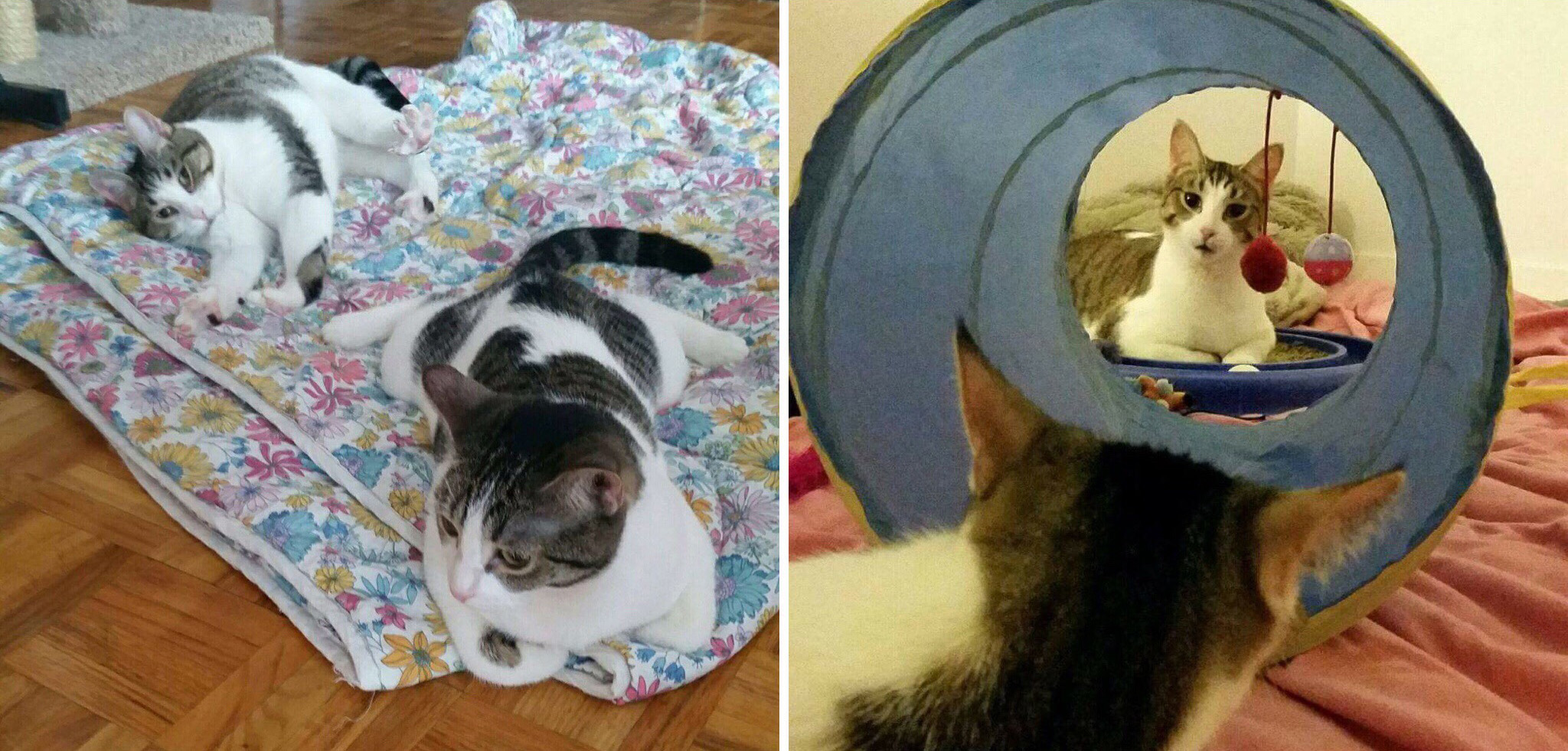 "In Summer 2015 I started volunteering at NTCR, and there were several kittens with mild-moderate CH looking for homes. There were many reasons why I chose to foster Pippa and Kiki. Upon initially seeing them my first feeling was sympathy, and because of their condition many of the other cats in the shelter were not comfortable around them because of their uncoordinated ungraceful movements. They needed assistance eating and drinking. They had trouble getting to and using their litter box. These kittens needed far more attention than a "normal" one would and I wanted to help them.
Many people (including veterinary professionals) are of the opinion that kittens born with severe CH should be euthanized. However, there are many people who would disagree and devote their time and love to CH cats. I already had a 5 year old mild CH cat, Mrs Flopperz, who I adopted when she was three months old, so I had some experience in handling CH kittens. To cut a long story short, I'm a failure at fostering! Despite also having two five year old siblings (Ketchup and Buckleberry) I became very attached to Pippa and Kiki and knew that I could give them a loving home. Pippa and Kiki are extremely special girls who had developed personalities. Pippa was a little firecracker full of determination and Kiki would make these adorable attention seeking sounds and then roll around for belly rubs. She purred as soon as you were within sight of her.
Pippa had the worst CH of all her siblings, and Kiki was a more moderate level. I felt that I could focus on giving these two the attention that they needed, and hoped that somebody else would foster the remaining pair (Ruby and Skippyjon had already been adopted at that point). They have taught me a lot about patience, determination, compassion, and unconditional love. They became a part of my family and part of my daily routine. Originally when I adopted Mrs Flopperz, there was a special innocence about her. Pippa and Kiki also possess this same sweet innocence.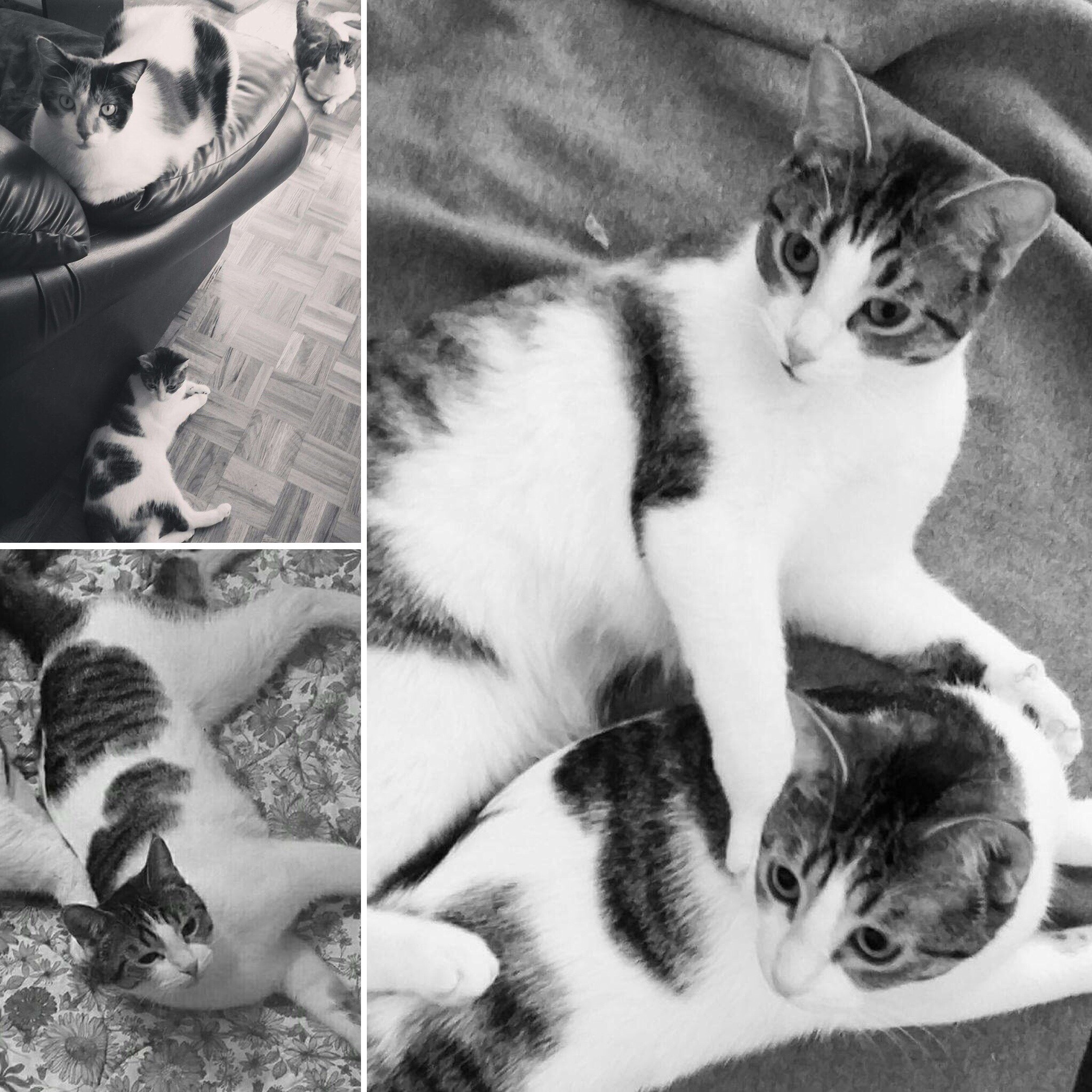 I feel a surge of happiness when I see them drinking water on their own. It's the most basic thing in life. Their animal instinct is just like any other cat: survival. Watching them grow into their own unique selves is quite rewarding. They have developed a friendship with Phoenix (newest rescued cat in the home), and a relationship (the kind where they just co-exist and co-habitate) with London who is the princess of the house. Pippa and Kiki get hyper and play just like any other cats. Watching them playing and being happy is extremely fulfilling.
When they were younger, it was challenging to keep them clean. They hadn't mastered the art of the litter box quite yet and at times would fall in their poop or pee on their own leg fur. As they grew, they graduated from a small shallow litter box, to a bigger litter box, to a covered litter box. Making sure they can access their food and water on their own was a challenge as well when they were young. Today I can take comfort in knowing that both have developed their own skills and methods for successful food and water consumption. At one point I witnessed Pippa becoming frustrated with being unable to balance herself in front of her water dish, so she pushed the dish with her paw and some water spilled out. She then proceeded to lay in front of the puddle and start lapping up water. They are so determined and so versatile.
Pippa and Kiki have their own bedroom that is what we used to call our den. The floor is covered in foam padding and walls have crib bumpers along the bottom. They have plenty of blankets, a flat tray of free feed dry kibbles, a ceramic shallow water bowl, and a covered litter box that is shallow for their easy access. We keep the door open but have a baby gate with a clear window. They stay in this room overnight or when no one is home (they have their own radio playing classical music). When we are home Pippa and Kiki spend their day on a blanket on the main floor. Occasionally one may go on a walking adventure and bump into stuff here and there. They are very strong girls and if they fall they get up and continue on. Although Floppy is able to climb up and down the stairs, Pippa and Kiki are unable to. They have never made an attempt to go up the stairs, and they cannot access the stairs to go down, as the baby gate prevents them from exiting their bedroom.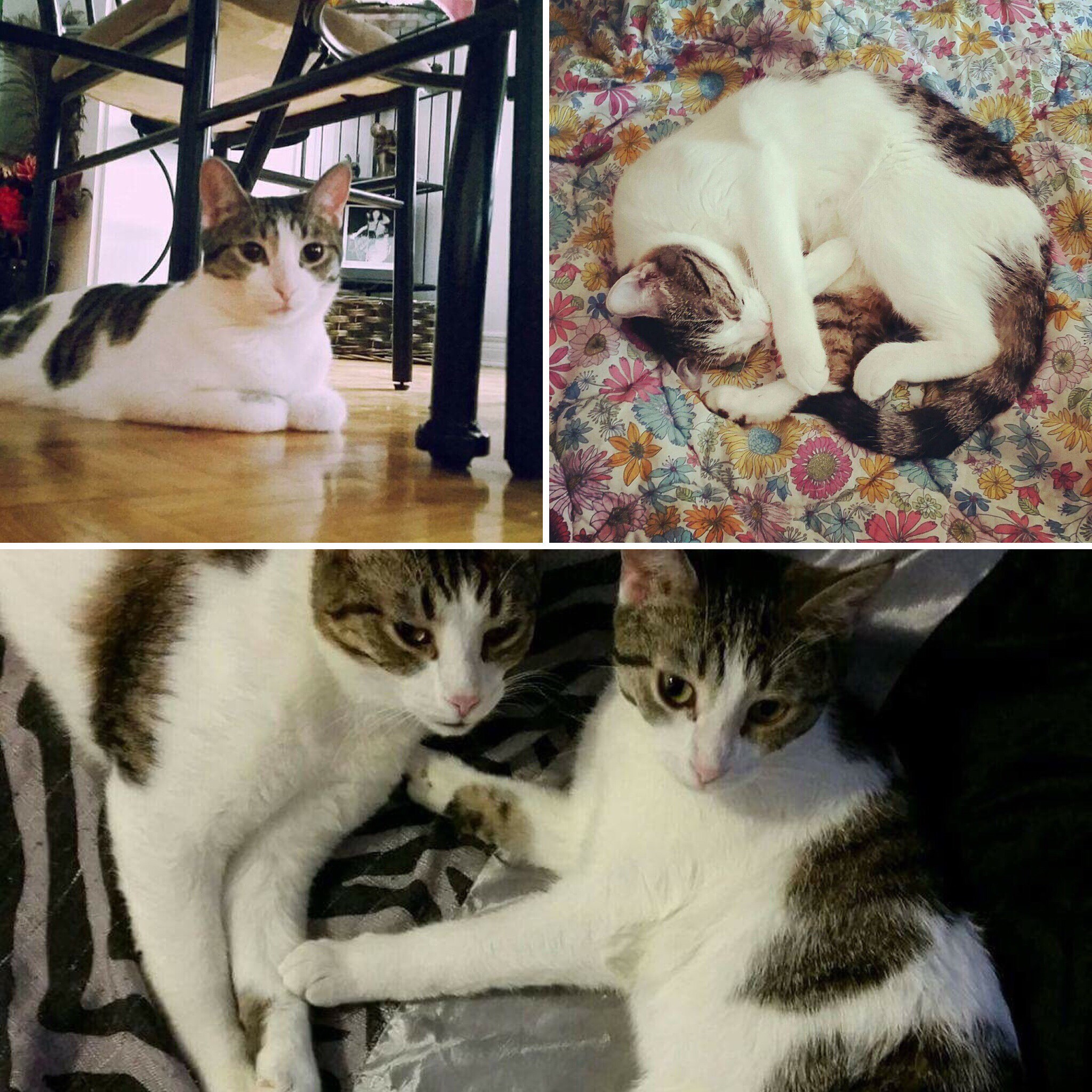 Since adopting Pippa and Kiki, I have learned that their claws play a very important role in getting around. On rugs or their foam padded flooring, they use their claws to grip into the floor for traction. On the hardwood floors they slide around like Bambi on ice. Pippa seems to have an aversion to being picked up or carried, and she appears uncomfortable with heights. To move her from their upstairs bedroom to the main floor I wrap her up in a comfort blanket to reduce her stress. CH cats develop very strong muscles in their legs to get around and they keep getting stronger. I have also learned that the CH condition is not very well known or understood, and that awareness needs to be raised so these cats don't end up being put down needlessly.
The advice I would give to anyone considering fostering or adopting CH/special needs kitties is to be prepared for a lot of work, but the payoff is beyond worth it. As they get older, they become much easier to manage. All of my CH cats are the most loving and almost constantly purring. There is also a feeling of fulfillment of doing a good deed in helping those who cannot help themselves. If you have a compassionate heart a CH cat will fit into your home perfectly." ~ Pia