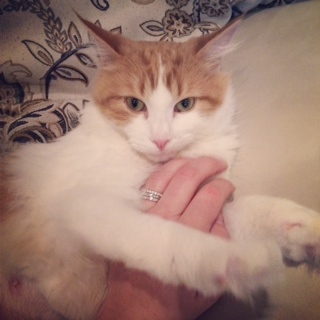 Hi Donna!
Just wanted to give you an update on sweet Peaches who we took home last weekend. She seems to be completely at home, we have marveled at how easily she has settled right in!
She is loving and playful and loves to have some serious snuggle time in the mornings. She didn't make a peep the whole way home and has seemed to adjust with ease, eating right away and using the litterbox.
Her favorite new spot is actually on mikes shoulders which we have started calling the "cat scarf". Thank you so much for rescuing her we think she was meant for us 🙂
It hasn't even been a week but she is already a part of the family.
Thank you so much for all that you do!! Merry Christmas and happy holidays!
~ Katie, Mike and Abby (formerly Peaches)