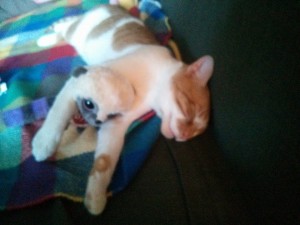 Hi Donna and her colleagues,
This is Juliana and Mihai writing to you. We adopted Polo from you last week. We wanted to check in and let you know that he is doing very well. He eats and drinks well, he plays a lot, and he is the cuddliest, most affectionate cat ever! We love him so much, and spend every waking moment with him. He adjusted very well and very quickly, and has very rapidly become a permanent member of our family – our baby. He helps us get our schedules on track – he wakes us up at around 9 am because he is hungry and wants to play. You were afraid that he'd be bored with us, but we have succeeded and he is not at lack of attention (as in we cuddle and play ALL the time). We could even cuddle and play more, but he needs naps because well, he's a cat :).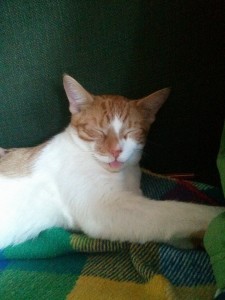 He is very curious about our bathroom routine, it's hilarious, and his own bathroom routine has been perfect from the very start. He prefers to sleep at our feet even though he has his own place, and we love waking up to a purring kitty that has crawled up to our faces to kiss and cuddle.
We wanted to thank you again for letting us take home the greatest thing to ever happen to us. We will be in touch periodically to let you know how he is doing. We're attaching a picture so you can see that he is very happy with us. We hope that you are doing well with the amazing things that you do.
Thank you for saving him, and thank you for letting us be part of this amazing cat's life.
~ Mihai, Juliana, and Mango