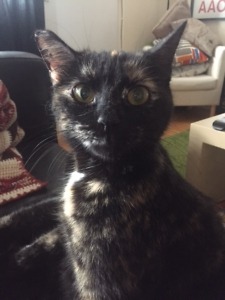 Hey guys….update – really it's just an email letting u all know what an amazing girl we have. She's thriving and everything.
Things she loves:
– Her banana toy
– Her red tunnel
– Sitting nicely in mommy and daddy's closet, playing hide and seek
– Head and face rubs
– Allllll the treats
– Waking mommy at ungodly hours, just because
– Greeting my puppy friends who live next door.
– Chasing and playing with daddy's socks (side note: mommy has bought me lots of toys but I still love socks)
– Listening to my bell collar as I walk around like a fancy princess
– Watching mommy play video games
– Laying on mommys lap as we watch the Simpsons, I love the bright colours.

Things I HATE:
– Food … with fish in it.
– Grooming … all of it.
– When mommy and daddy go to sleep; only because I want to play then.
– All of my scratchers, I prefer the couch.
– Loud noises scare me and make me.
– When mommy leaves for work.
– When daddy leaves for business trips; I miss him and wait by the door.
– Other cats.
~ Anastasia