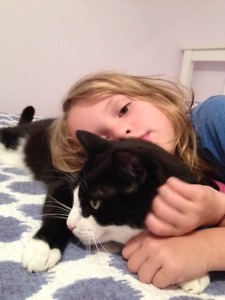 Hi Donna,
I've been wanting to give you an update on Fonzie-the boy with stomatitis who had laser surgery in February-he is doing wonderfully. He is so comfortable with all of us, including the dogs. Gizmo (4lbs) and Fonzie argue regularly. I think Fonzie just hits her for fun….I never notice him using his nails. Gizmo snaps with her gums because she has no teeth. They're quite the pair. Ruby (80lbs) and Fonzie hang out in our front window together. They get along fine. Ruby only gets annoyed when Fonzie takes off with her squeaky tennis balls haha. He's quite the party animal. Loves to play and gives awesome hugs by wrapping his paws around our neck. He has many names such as Arthur, Fonzie, Fonzarelli and most commonly dude.
Health wise, he is doing great!! I check his mouth every few weeks for flare ups and it looks perfect for a semi toothless cat lol.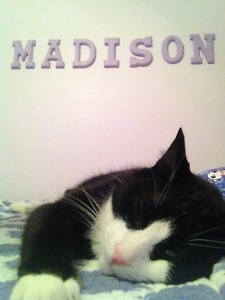 He's a beautiful boy who provides us with a lot of laughs and love. Thank you for taking such good care of him and keeping him safe until we could adopt him. What you and your volunteers do amazes me
I've attached a few pics I took tonight after we read the girls their books.
Hope you are doing well!!
~ Emma, Madison and Brooklyn