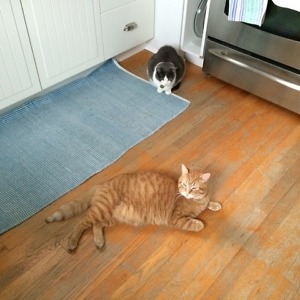 Hi Donna,
I just wanted to give you an update on dear Archie. Things are going really well. Larry and I absolutely love him to bits! He is such a sweet boy. We can't understand why he wasn't scooped up sooner but we're very happy that we are the lucky people that got him!
As you said, Archie is submissive and he has been quite the gentleman with our elder statesman! He seems very interested in befriending Steve however Steve is a little more wary. They have touched noses a few times and Archie lets out a little chirp, retreats and then lies down just out of Steve's reach as if to say, "I'll be over here if you want to be my friend". I suspect that comes from him being around so many other cats and trying to keep the peace! Steve and Lance were in a shelter but that was nine years ago so it is a distant memory for Steve. To his credit, he has not struck out at Archie. Steve is very much a gentle, submissive guy like as well. He has only hissed a couple of times and let out a few feeble growls, nothing that would truly intimidate anyone. The way things are progressing, I think (hope) that they will be pals very soon!
Larry noticed that Archie liked the round floor scratcher that was in room two so we bought him one yesterday which he sits on all the time. He has made himself quite at home here and seems to enjoy lying on the couch to give himself a bath.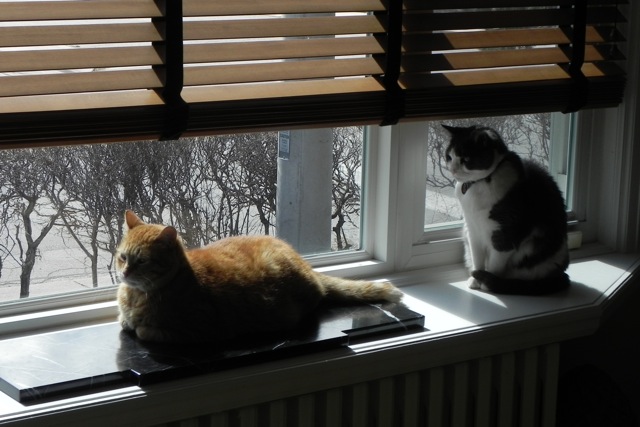 He's not a big eater though – unlike his new brother!
Thank you so much for letting us adopt Archie, he is already a much loved member of our family. Maybe "tolerated" would be better in describing Steve's feelings – ha ha!
I hope you like the pictures below. Maybe the next batch that I send will include some of Archie and Steve cuddled together – fingers crossed!
~ Kathi