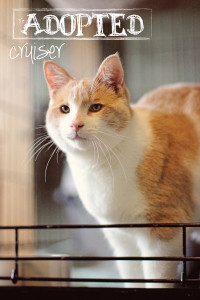 Two weeks ago, myself and two sons went to North Toronto Cat Rescue to find out newest family member (we all agreed and have been insistent for months). We went through all the rooms on the main floor and my eldest teen kept his hands in his pockets and would not pet any cat (much to my dismay)…
Next we went into the room where Cruiser was, which is open-attached by a door way to another room (no door). We visited in the main room, then I went through to where the kittens were with my youngest. Turned around and my teen was not there ? I backtracked to the main room and he's on the ground playing with Cruiser. Cruiser would not let him move once he entered the room, and kept walking between his feet until he'd pet him. Needless to say I think he fell in love with the little guy right there. I went back to the kitten room, turned around, and noticed I had lost my youngest… Went back to the other room and my teen was showing the youngest how to pet Cruiser's tummy without getting nipped ! Both were insistent this was the new family member. He found us ! He was not one I had on my original list from the website.
My youngest was also torn with Dakota (at the front door he was holding Dakota upside down, getting kisses from Dakota…so he wanted both ! ha).
Last Saturday I went and picked up Cruiser so he could get used to the house by himself for one evening before the boys came over. The car ride home was horrible and I felt so bad…this adorable loving cat was howling, peed, scratching…thankfully it was only a short 20 minute drive. He was petrified ! I brought him upstairs to the bathroom attached to my bedroom, set up his litter, two bowls of hard food, some soft food, cold water, some toys, and stayed with him there for a couple of hours. I had to hold him in my arms and kiss his neck continually. If I put him down he'd meow…pace.
I came downstairs and left him to adjust to a smaller/new space, and it didn't last… he was crying immediately. I opened up the door to connect/open up so he could have the bedroom and bathroom. He still kept meowing unless I was with him…so I took the computer up and stayed in the bedroom with him, while he paced. He had a big adjustment realizing he could come on the bed ! ha… He still doesn't like to stay on it. At one point he had about a 30 minute discussion with me laying next to me. He'd wait for me to talk, I'd say something, he'd meow one to a few times and wait for me again… He slept on the bed with me and he jumped off and on a few times (I know this because he landed on me some of those jumps ! ha). I kept the bathroom light on so he could stay orientated through the night.
Next day the boys came and all the fun began… Will continue in another post ! Donna will be thrilled that we have a much needed/,mandatory toy of the little cloth balls, feathers attached to the end of a long stick (that we got from there in the china cabinet upstairs !). He only comes for the stick now…
Thank you everyone for looking after Cruiser for so long, and so well. He is the most gentle cat I have ever been around in my life ! you can tell he was well loved/adored.